Only 68 hours left to support this project!  It is now over 50% funded with only $370 needed to bring this important film to Phoenix.
Make a pledge to help show this film by 11am this Sunday and the Arizona Chapter of AAPS will match your contribution.
If the goal is not met by then, your credit card will not be charged.  See below for more information.  Several of your Arizona AAPS colleagues have already stepped forward to help.  Join them &  CLICK HERE to pledge your support today!
---
Dear Arizona AAPS members and friends,
The Phoenix Objectivists are raising funds to show the documentary, Sick and Sicker.  To hold the screening they need to reach $800.00 by 11am Sunday, August 7.
Let's help them reach their goal!  CLICK HERE to pledge your support today!
 

AAPS Board Member, Wayne Iverson, MD, organized a screening at a San Diego
area hospital this past week, despite attempts from the hospital
administrators to block it.
Can AZ AAPS supporters help ensure an Arizona debut?
This documentary exposes the cold, hard, truth about ObamaCare's false promises
using the President's own words contrasted with the stark, human
consequences of government-run medicine seen in our neighbor to the
north, Canada.  Witness real-life struggles of sick patients failing to
receive treatment when the government plays doctor, leaving the real
physicians with their hands tied.
CLICK HERE to pledge your support today!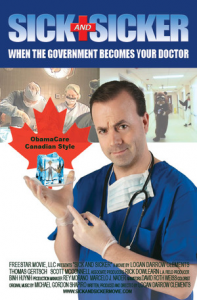 You will be asked for a credit card number, but your card will only be charged once a total of $800 has been pledged.  If the goal is not met you don't pay.
In addition, a $20 pledge will allow you to download a copy of the
movie.  Pledge levels over $20 will earn you DVD copies of the movie and
even Ayn Rand postage stamps!
Sick and Sicker provides
an authoritative message that can change minds and demonstrate to the
American people how our current leaders are leading us down the path to
medical disaster.
Where will ObamaCare lead America?
This film shows what happens when "the government becomes your doctor"
using licensed news footage from Canadian TV, interviews with doctors,
patients, journalists, a health minister, a Member of Parliament, a
doctor who went on a hunger strike as well the producer's own Canadian
relatives.  Clements even rents a hospital to show the mismatch between
supply and demand in a medical system run by politicians.  SICK and
SICKER puts ObamaCare on ice with cold hard facts from Canada.
Producer of the movie, Logan Darrow Clements, is best known for leading a rebellion against eminent domain abuse under the banner "The Lost Liberty Hotel". See his TV appearances on CNN, Fox, MSNBC at http://www.freestarmedia.com/videos.html.